"Happy Hunger Games! May the odds be ever in your favor!"
I'm finally going to see the movie tonight... I'm so excited!!! teeeheeee~~~
And to celebrate, I'm swatching 3 polishes from China Glaze's Hunger Games collection called
Capitol Colours
. There are 12 colors to represent the 12 Districts, which are further explained and swatched on these links:
Geek Alerts
All Lacquered Up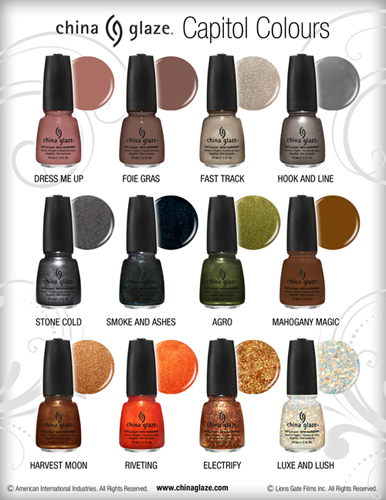 It was a pretty genius collaboration and I feel pretty silly for falling into the hype. :P But I just loved the first book! It's like if Harry Potter came out with a line... I would definitely have to pick some up! hehe
My sister and I saw a new cart at Brea mall selling this collection and had a "buy 3 get 1 free" offer for any OPI and China Glaze polishes. We ended up purchasing Dress Me Up (District 8 - Textiles), Fast Track (District 6 - Transportation), and Stone Cold (District 2 - Masonry). We decided to get our 4th free polish from the OPI Holland collection called I Don't Give A Rotterdam.
China Glaze Fast Track, Dress Me Up, Stone Cold, OPI I Don't Give A Rotterdam!
Fast Track caught my eye when swatches first came out. I love how soft the gold flecks look in the tan polish. I have a weak spot for nudey-neutrals and I love the gold accent!
Dress Me Up is a creamy dusty rose that makes me feel so girly and classy at the same time.
Stone Cold dries to an opaque matte finish in one coat. The name is perfect and it really makes me feel like I'd be from this district.
I Don't Give A Rotterdam was the freebie we received. It applies semi-sheer and has a dusty periwinkle color with gold shimmer. It's so pwweetttyyyy~~
Do you guys own any polishes from the Capitol Colours collection? What colors would you want?
Can't wait to see this movie!!!!!!!! :D :D :D